Nest Cam Indoor with Google Home Hub
MODEL: NC1102ES,GA00516-US
PRODUCT FEATURES
What are the kids doing? Is Spot on the sofa again? Google Home Hub works with Nest Cam Indoor to let you check in on any room, so there are no surprises. Just say, "Hey Google, show me the living room."
How it Works
You can tell your Google Home Hub to play your Nest camera's live video on a screen. Here's what you can say:
Hey Google, play [camera's location name] camera on [display's name]. For example, "Hey Google, play the Porch camera on the Living Room Chromecast."
Tip:If you're speaking to a Google Home Hub smart display, you can just say, "Hey Google, show the [camera's location name] and it will play the video on the display.
Hey Google, turn off [display's name]. Keep in mind, this command will tell your display to stop showing video from your Nest camera, but it won't turn your camera off.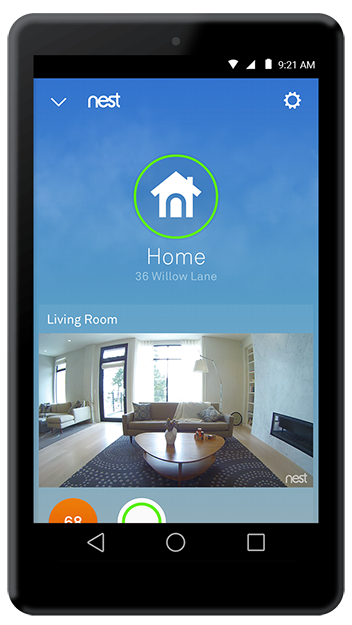 Google Home Hub
Control your connected home at a glance
Google Home Hub brings you visual help for any moment at home. With the Google Assistant built in, use your voice to view your latest events and reminders and control smart devices from a single dashboard. Ask questions, and get visual, immersive answers from Google, and helpful videos from YouTube. Plus, play your favorite songs on a crystal-clear speaker while you relive memories with Google Photos. Get help with the little moments, so you can enjoy the big ones.
Product Benefits
Control by Voice
Two far-field microphones detect your voice from across the room, so you can control your Google Home Hub while you're doing other things.
Touch and Tap
Google Home Hub's touch-sensitive screen puts control at your fingertips. Swipe from left to right to go back, up for volume and brightness controls and down to reveal your home view dashboard.
Enhances any room
With Ambient EQ, Google Home Hub automatically detects and matches over 16 million combinations of light and color, so your photos blend in with your home decor.
The right brightness at any time
At bedtime, Google Home Hub dims to match the darker lighting in your room, so you get a more restful sleep. And when you wake up, the display brightens to match the morning light.
Personalize your morning routine
With Voice Match, just say "Hey Google, good morning" to see your personalized events, commute, reminders, and more. With Google Home Hub you can even set up custom routines.
Get answers for any moment
Just ask the Google Assistant and get rich, visual answers about recipes, local businesses, sports and more.
Play your music
Enjoy songs and videos from YouTube Music on a crystal-clear speaker. Plus, listen to Spotify, Pandora and iHeartRadio. All available free.
Relive the moment 
Use your voice to show any of your pictures in Google Photos, and with Live Albums, see the best and latest photos of loved ones.
Nest Cam Indoor
Plug-in-and-go security
Did you leave the garage open? Did you let the dog out? Meet Nest Cam. You can set it up and connect it to Wi-Fi in less than one minute and see your home in beautify high-definition video. Nest Cam Indoor stands watch 24/7. It can send an alert when it detects activity. It's quick and easy to install. And it lets you talk back through the Nest app. This is what an indoor security camera should be.
PRODUCT BENEFITS
24/7 live video
130° wide-angle view shows your home in super clear 1080p HD, day and night.
Get alerts on your phone
Get alerts when there's activity, and see a snapshot of the last three hours in the Nest app.
Listen in and talk back
Tell the dog to get off the couch, or speak up to get a stranger's attention.
---
Don't Miss a Thing with Nest Aware
Starting at $10 a month, Nest Aware gives you more intelligent alerts and up to 30 days of continuous cloud recording. And you automatically get a free trial.
Person Alerts
Get a special alert when Nest Cam sees a person, like if someone's in the room.
Find what you're looking for
Quickly find key moments in Sightline. And speed through the rest.
Record everything
10- or 30-day video history saves everything.
Meet the 3rd Gen Nest Learning Thermostat, now in three new glossy colors.
The Nest thermostat programs itself, automatically helps you save energy when you're away and can be controlled from anywhere. And now, the 3rd gen Nest Learning Thermostat is thinner, sleeker and more beautiful than ever. The display is even bigger and sharper.
PRODUCT BENEFITS

Farsight
When Nest spots you across the room, it lights up to show you the time or the temperature you set.

Nest Leaf
The Nest Leaf appears on the display or in the Nest app when you choose an energy-saving temperature.

Auto-Schedule
No more confusing programming. Nest learns the temperatures you like and builds a personalized schedule for your home.

Home/Away Assist
Don't waste energy heating or cooling an empty home. Nest automatically saves energy when you're away.

Airwave
This unique technology helps you use less air conditioning while staying perfectly cool.

Remote Control
Change the temperature from anywhere with your smartphone, tablet or laptop.
Shipping Restrictions
Nest Thermostats cannot be shipped to PO boxes.
Installation
The Nest Thermostat works in most homes with low voltage systems — make sure it'll work in yours. Most people install it themselves in 30 minutes or less.
---
Google and Google Home Hub are trademarks of Google LLC. Nest and Nest products are registered trademarks of Nest Labs, Inc.
If you still have any questions regarding the Google Home Hub or Nest products, please contact our customer support team.
REBATE DETAILS
No rebates available